"All right, Daddy . . . I'll do what you say. I'll go back to Ernest B. Lawson Elementary School. But I won't like it. I won't like the people who buy the land, and I won't like my teacher, or the kids in my class, or the ride on the bus. And I won't like you or Mama, either" (from Ida B . . . and Her Plans to Maximize Fun, Avoid Disaster, and (Possibly) Save the World by Katherine Hannigan).
Change can be HARD. There are days I feel like Ida B when she accepts the change but refuses to like it. On those days I want to yell, "Fine!" and storm out of the room. There are also days where I don't want to utter a word, just scowl like a sulky teenager. After the swirl of emotion settles, my rational side kicks in and I remind myself that even though change can be hard, it is not impossible. I know t
here is beauty in new ideas that spark from change. As humans, I believe we grow emotionally and intellectually when we overcome change. We grow by leaving behind what we knew, what we've been successful with, and
leaping into a whole new world of uncertainty. It can be scary and exhilarating all at the same time. While this year brought a world of change for me, I will be a better teacher for it. Next year, my students will face changes. Whether it's a new building, a new teacher, a new way to school or big changes in their homes, all of them will come to me facing changes. What will I do?
I will listen to their stories. I will empathize with them. And, I will offer them a good book.
Experiencing an addition to the family is a common change for many of my younger children. I love Pecan Pie Baby by Jacqueline Woodson and Maple by Lori Nichols. In fact, you can join Maple in two additional journeys with Maple and Willow Together and Maple and Willow Apart (available July 21, 2015).
Mariama: Different But Just the Same by
Jerónimo Cornelles is about a young girl that experiences change as she moves from her familiar home in Africa to a new country where faces, languages, food and customs all seem so very different from what she knows.
My Name is Sangoel (pronounced Sun-Goal) by Karen Lynn Williams has long been a favorite of mine. Williams writes about a character that experiences change when his family is forced to flee Sudan. A teacher's guide explains the themes present in the book and gives curriculum tie-in ideas. Her book Four Feet, Two Sandals would pair up well when teaching text-to-text connections.
Middle Grade Novels
In the latest book by Newbery award-winning Katherine Applegate, fifth-grader Jackson goes through the turmoil of not knowing what change is coming his way. His family has been homeless before and now, they are selling all of their possessions leaving him to wonder if losing their apartment will come next. Applegate once again uses a delicate pen as she delivers her story eloquently to readers. Crenshaw will be available on September 22, 2015.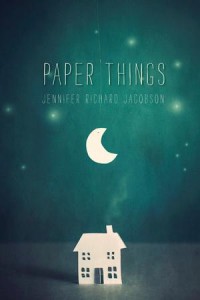 Paper Things by Jennifer Richard Jacobson is an excellent middle grade novel about sibling loyalty and the changes eleven-year old Ari faces in her life when she decides to stay by her older brother's side. Losing a friend, experiencing homelessness, and letting go of her dream school are some of the battles Ari comes across in this "I stayed up all night to find out what happened" novel.
Lisa Graff excels at creating a roller coaster of emotions as you turn the pages in her novels. I found myself laughing out loud, then just as suddenly as a turn or dip comes on a coaster, one of her character's would deliver a line that cut the humor and made my heart drop. Trent experiences a life-altering change and though months have passed since the event, he continues to struggle. He finds little support from his family and friends, until Fallon shows up to slowly chip away at the wall he has built around himself. Eventually, Trent starts to let others in and allows himself to heal.
Young Adult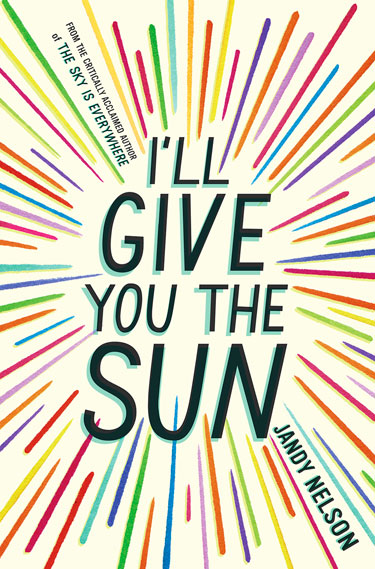 The 2015 Printz Award winner Lost in the Sun by Jandy Nelson is also a Stonewall Award Honor, New York Times Notable Book of the Year, NYPL Best Book of the Year, an NPR Great Read, YALSA Top Ten...the list goes on. In short, it's definitely a not-to-be-missed title. Teenagers Jude and Noah share that special bond twins are known for, but as secrets, love, grief and guilt surface these two change and along the way, so does their relationship.
The Book of Unknown Americans by
Cristina Henríquez is an excellent adult book for young adults. Perspectives of many different immigrants fill the pages, but the main story is about the Rivera family who moves to America from Mexico with the hope that their daughter Maribel will have all of the resources she needs in the U.S. to help her recover from an accident.
Susan Kuklin's 2015 Stonewall Honor, Beyond Magenta:Transgender Teens Speak Out, is based on interviews with six individuals that seek to become their true selves. Each teen epitomizes embracing change, listening to oneself even when others may not understand and taking risks to become the person one is meant to be. An educator guide is available to help facilitate discussions.
This post could be endless, but these are just a few of my favorites that you may wish to put in the hands of your students. Never underestimate the power of connecting with a good book!
Happy Reading.